CHOREOGRAPHERS
Mike Esperanza
He/him/his
Mike is an acclaimed artist from New York City who has established a national presence in the graphic design and dance communities. As a designer, his works has been recognized in publications such as Print, Communication Arts and Graphis. Mike has also created award-winning work for Columbia Tristar, Sony, Telemundo, Nissan, The Colgate Company, The Irvine Company, Fashion Island and Santana Row.
Originally from California, Mike obtained a degree in graphic design from California State University, Fullerton.  Mike relied on his education to sustain a dance company for twelve years in Los Angeles and New York City, where marketing and photography became an integral part of building a business brand, including print and online presence.  Mike's organic approach to photography captures the body in its shape-shifting form. "I treat the frame the same way I compose movement on the stage. The visual context is created based on the need of the client.  Some are simple and forward while others generate tension to push the flow in and out of frame."
As dance maker and choreographer, Mike has presented on prestigious stages including the John F. Kennedy Center for the Performing Arts, Sergerstrom Center for the Arts, McCalllum Theatre, Alvin Ailey American Dance Theater, Salvatore Capezio Theater at Peridance, The Royal Conservatory in Cordoba, Spain, and the Australian Circus Festival.  The Los Angeles Contemporary Dance Company, Dark Circles Contemporary Dance, and other universities around the United States have commissioned Mike's work.  Mike's talent garnered the 2005 "Dance: Creation for Performance" grant presented by Dance/USA and the Irvine Foundation, the 2010 "Innerstate" tour presented by ODC Theater, the 2010 paid engagement award at the Palm Desert Choreography Under the Stars Festival, the 2014 Reverb Dance Festival commission award, and the 2014 CUNY Dance Initiative.
Mike is currently continuing his visual and creative exploration through film.  Two of Mike's recent works have been screened nationally and internationally.  The National Center for Choreography in Akron, Ohio and the San Francisco Dance Film Festival named Mike a choreographer for the 2018 "Co-Laboratory" Project.  The Project pairs a choreographer with a film director to created a dance film in ten days using the City of Akron as a backdrop.  The film "But first…" will premier at the San Francisco Dance Film Festival on October 11th through 14th.
Mike's work has been described as "bold, athletic movement and theatricality – the latter clearly the coming together of Esperanza's many talents – the company epitomizes the dance of the new millennium: shape-shifting, vernacular-blending with a prescient focus on the brave new world in which we live." ~ Jessica Abrams, Explore Dance.
Annabelle Lopez Ochoa
she/her/hers
Annabelle is an award-winning and sought-after choreographer that has created works for 71 dance companies around the world. A versatile choreographer, Lopez Ochoa creates regularly within the dance field but also for theatre, opera, and musical theatre. Her wide-ranging body of work includes short conceptual pieces, full-length narratives, and dance films. The Colombian-Belgian Lopez Ochoa completed her dance education at the Royal Ballet School of Antwerp. After a 12-year-long career in a number of European dance companies, Annabelle decided in 2003 to focus solely on choreography. That same year she is hailed as the "rising star of the Dutch dance scene" (NRC newspaper) and only 7 years later the Temecula Performing Arts Examiner wrote: "Ochoa is truly a masterful choreographer with an edge for what dance can and should be in this constantly changing industry". She has been creating new works and new forms ever since and is also frequently invited to teach.
Annabelle is one of the world's busiest choreographers. In 2006, she imagines a dance for the celebrated Dutch fashion designer Viktor & Rolf's project at the van Gogh Museum in Amsterdam. Between 2005 and 2015, as a  member of the Dance-Theatre collective "Fantasten" she successfully created physical theater plays, which have been performed in numerous theaters and festivals throughout the Netherlands. In 2016, the Jacob's Pillow Summer School invited Lopez Ochoa to join the faculty as a guest contemporary choreographer, and classical choreographer in 2018. In 2019, Annabelle is appointed as the director of the Contemporary Classical Summer program of the School at Jacob's Pillow. A position she will hold for 3 years.
During the pandemic of 2020, Lopez Ochoa pioneered remote choreography and dance film creations premiered online. She directed and edited 23 short dance films that can be seen on her Vimeo page. Her online work has attracted significant attention; publications including Dance Magazine, Pointe Magazine, Backtrack, TV5 Monde, Dance Gazette has interviewed Lopez Ochoa about her new dance films and the developing genre.
Olivier Wevers
he/him/his
From ballet training in his native Belgium, Olivier learned the beauty, passion and discipline of the art. On coming to North America at age 19, he discovered the exhilaration of many new dance forms. As a principal dancer, first with Royal Winnipeg Ballet and later, for most of his dancing career, with Pacific Northwest Ballet, he acquired his strong conviction that dancers are the heart and soul of a company. As such they, and artists in general, must live at the very center of the process, their dignity, psychological and creative growth and safety deemed just as essential as their technical accomplishments.
During his years of performing in classical and contemporary works by choreographers from around the world, Olivier also discovered the thrill of making dances and how imaginative story-telling and movement exploration connect to caring about individuality and physicality. Creating dances fed his perennial curiosity. It became "my way to express myself and, during the process, to be able to learn more about the human condition, start dialogues, touch people and share ideas, reflecting on our times and our humanity."
LIGHTING DESIGNER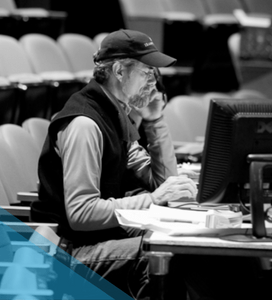 Michael Mazzola
he/him/his
Michael's critically acclaimed lighting and scenery has been seen in venues all over the USA, Europe, and Asia, ranging from opera houses to amphitheaters to circus tents to hay barns. The 3-time New York Dance and Performance Award winner has designed lighting and scenery for many dance companies, in the USA, Australia, Finland, Sweden, Cuba. He designed lighting and video for the 2015 Presidential Scholars Awards, at the Kennedy Center Concert Hall. Michael has also been Senior Scenic Designer on two Comedy Central Celebrity Roasts, as well as the 2015 Lincoln Awards at the Kennedy Center Concert Hall for Uplight, Inc, based in NYC. Some of his performance photography has been published in Liz Lerman's book "Hiking the Horizontal", as well on the websites and marketing materials for Bebe Miller Company and Rachel Tess Dance.
PRODUCTION STAGE MANAGER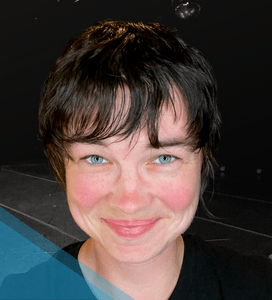 Becca Blackwell
she/her/hers
Becca has been our production stage manager for the past 5 seasons and has been freelancing across Seattle for 11 years. She is also the Technical Director for Dance Church GO's filmed residencies. Becca freelances as a stage manager, lighting designer, concept artist, and dancer. Becca brings the artist's concepts to fruition by facilitating the environment, space, and visual landscape, as well as occasionally taking to the stage herself.
Enriching lives by investing in imagination,
illuminating that art exists within each and everyone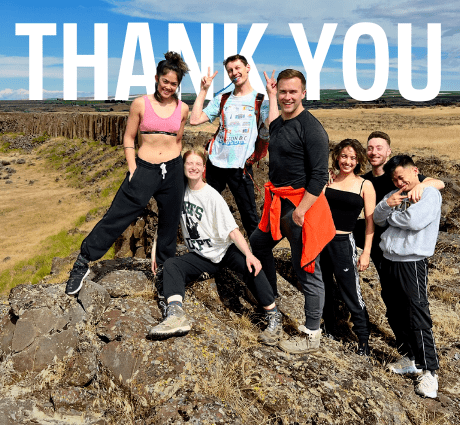 SUPPORT NEW DANCE CREATIONS & THRIVING ARTISTS
Every gift makes an impact on our artists, programs and community.
Thank You for Your Generous Support!
Your support makes our work possible and we are deeply grateful for all the ways you continue to show up for Whim W'Him, our artists and each other – by donating, joining us for online creations and conversations, and sharing the work we do with families, friends and neighbors.

Thank you for being part of the Whim W'Him family!