CHOREOGRAPHERS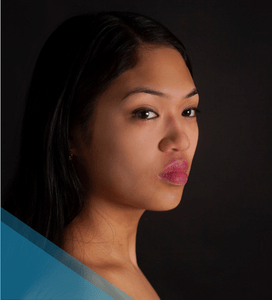 Keerati Jinakunwiphat
she/her/hers
Originally from Chicago, IL., received her BFA from the Conservatory of Dance at SUNY Purchase and was a recipient of the Adopt-A-Dancer Scholarship. She has additionally studied at the Western Australian Academy of Performing Arts, San Francisco Conservatory of Dance, and Springboard Danse Montreal. She has worked with and performed works of artists such as Kyle Abraham, Nicole von Arx, Trisha Brown, Jasmine Ellis, Hannah Garner, Shannon Gillen, Andrea Miller, Kevin Wynn, and Doug Varone. She has assisted Kyle Abraham in new commissioned work for New York City Ballet and Paul Taylor Dance Company. As a freelance choreographer, Keerati has presented her own choreographic works at the American Dance Guild Festival, Triskelion Arts, Dixon Place, Battery Dance Festival, Dance Gallery Festival, the Joyce Theater and New Victory Dance. She has been commissioned to set and create works on the Evanston Dance Ensemble, the Martha Graham School, SUNY Purchase College Conservatory of Dance, A.I.M by Kyle Abraham, Houston Contemporary Dance Company, and New England Ballet Theatre. Keerati has graced the cover of Dance Magazine featured as '25 to Watch' for 2021. Keerati joined A.I.M by Kyle Abraham in 2016.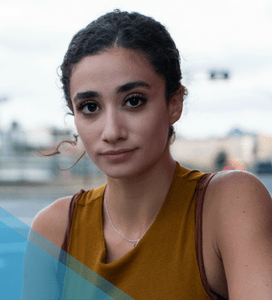 Dolly Sfeir
she/her/hers
Choreographer and film director Dolly Sfeir grew up in Lebanon and moved to the U.S at the age of nineteen. The move changed her life and defined her creative process.
Hailed for her "stunning work" (Palm Springs Desert Sun), Sfeir investigates the instability of contemporary life and the complexities of the human condition through a fantastical and cinematic lens. She is the 2019 Grand Prize recipient of the Palm Desert Choreography Competition at the McCallum Theatre. She received the Ann & Weston Hicks choreographic fellowship from Jacob's Pillow in 2019 and is an artist-in-residence for the Abingdon Theatre Company in New York. In that role, she is developing several short films and a full-length work set to the music of Duke Ellington. Additionally, she has been offered a two-year residency with CUNY Dance Initiative to develop a full-length work, to be premiered in Spring of 2022. She has been offered a commission with Holstebro Dansekompani in Denmark to create an original work premiering in Fall 2022.
Her film "It Cries too Loudly" has been circulating the film festival sphere nationally and internationally, at festivals such as San Francisco Dance Film Festival, Portland Film Fest, Austin Dance Festival, Short Waves in Poznan, and has received the best cinematography award from Eastern Europe Film Festival.
Sfeir's two most recent works, "it will happen again tonight." and "hi are you like me," were commissioned by Mare Nostrum Elements in New York. These works have since been performed at the Battery Dance Festival, Diavolo Dance Theater, the Dance Gallery Festival at Alvin Ailey City Theater, the Nuvu Festival, and many more.
Sfeir graduated summa cum laude from CSU Long Beach, where she was awarded a College of the Arts Scholarship and received a BFA in Dance.
She began dancing at Studio Arabesque in Jounieh, Lebanon, under her aunt's direction and by age four began appearing in nationwide theatrical performances by the Rahbani Brothers including work choreographed by Debbie Allen.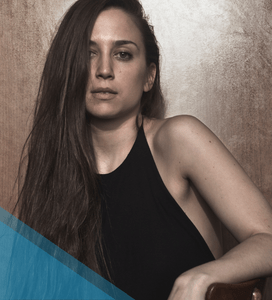 Nicole von Arx
she/her/hers
Nicole von Arx was born in England and grew up in both Hong Kong and Switzerland. Her performance career led her to becoming a soloist at the Royal Opera House in London and Chicago Lyric Opera while dancing for Jasmin Vardimon. She's worked for Carte Blanche (NO), Company XIV, Loni Landon, Romeo Castellucci, and Bryan Arias. She is the 2022 Dance Initiative Artist in Resident, 2020 Jacob's Pillow Choreography Fellow, 2018 STUFFED Artist in Residence at Judson Church, and 2017 Dance Gallery Level UP Artist in Resident. Nicole has most recently worked with Stanford University, The Consulate General of Switzerland in New York, The Ace Hotel, The Yard, Showfields, as well as brands like V Magazine, K-Way, Target, and Kate Spade. Nicole is now in Brooklyn and creates under the name NVA & Guests. 
LIGHTING DESIGNER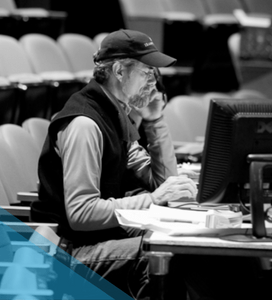 Michael Mazzola
he/him/his
Michael's critically acclaimed lighting and scenery has been seen in venues all over the USA, Europe, and Asia, ranging from opera houses to amphitheaters to circus tents to hay barns. The 3-time New York Dance and Performance Award winner has designed lighting and scenery for many dance companies, in the USA, Australia, Finland, Sweden, Cuba. He designed lighting and video for the 2015 Presidential Scholars Awards, at the Kennedy Center Concert Hall. Michael has also been Senior Scenic Designer on two Comedy Central Celebrity Roasts, as well as the 2015 Lincoln Awards at the Kennedy Center Concert Hall for Uplight, Inc, based in NYC. Some of his performance photography has been published in Liz Lerman's book "Hiking the Horizontal", as well on the websites and marketing materials for Bebe Miller Company and Rachel Tess Dance.
PRODUCTION STAGE MANAGER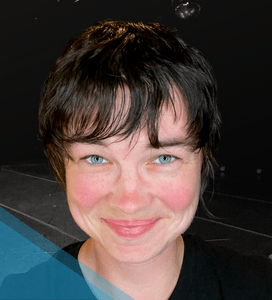 Becca Blackwell
she/her/hers
Becca has been our production stage manager for the past 5 seasons and has been freelancing across Seattle for 11 years. She is also the Technical Director for Dance Church GO's filmed residencies. Becca freelances as a stage manager, lighting designer, concept artist, and dancer. Becca brings the artist's concepts to fruition by facilitating the environment, space, and visual landscape, as well as occasionally taking to the stage herself.
Enriching lives by investing in imagination,
illuminating that art exists within each and everyone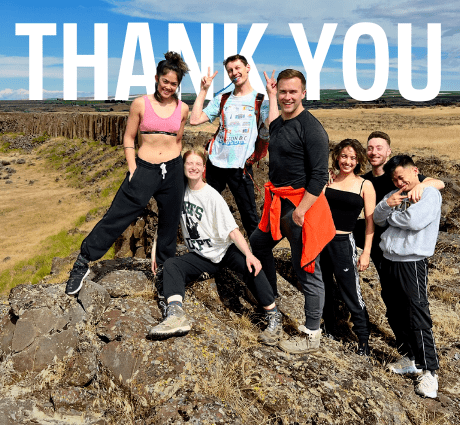 SUPPORT NEW DANCE CREATIONS & THRIVING ARTISTS
Every gift makes an impact on our artists, programs and community.
Thank You for Your Generous Support!
Your support makes our work possible and we are deeply grateful for all the ways you continue to show up for Whim W'Him, our artists and each other – by donating, joining us for online creations and conversations, and sharing the work we do with families, friends and neighbors.

Thank you for being part of the Whim W'Him family!