YOU PLAY A LEADING
ROLE AT WHIM W'HIM
Thank you to our generous community of supporters!
A very special thank you to our Season 22/23 sponsors:
Braiden Rex-Johnson and Spencer Johnson
4Culture
Anonymous
Jolene McCaw Family Foundation
Delaney and Justin Dechant
Jerry O'Leary
Joseph Straus
Kathy Gerlich
Michael Mathieu and Deborah Tyo
National Endowment of the Arts
Washington State Department of Commerce
Paula Becker and Barry Brown
Spencer and Braiden Rex-Johnson
The Paris Group Northwest
Timothy Tomlinson and Vu Pham
Amy Scott and Steven Alley
Amy Starner
Amy Williams-McKeekin
Anonymous
ArtsWA
Azlan Ezaddin
Courtney and Ira Gerlich
Geoff Prentiss
Jean Huisman
Nona Battistella
Paulette Camara
Richard Purcell
Sandra King
Stephen and Marie Heil
Art and Sue Jackson
Ashlyn Pawlak
Barbara Lewis
Betty Tong
Darren Focareta
Grace O'Loan
Jason Bergevin and Kelly Abner
Jason Campbell
Kathleen Roan
Linda Andrew
Natalie Sandoval
Prudential
Robert Evans and Steve Davis
Ronald Pederson and Jeffrey Sakuma
Stephen and Marleen Land
Thomas Hurley
Aki Namioka
Allison Reid
Anthony Hoopes
ArtsFund
Beth Glosten
Beth Terwilleger-Hester
Boeing
Bohemian Studios
Chet Robachinski
Christopher Economakos
City of Seattle Office of Arts and Culture
Curry Gibson
Dave Walter
Dave Watson and Betsy Rader
Deborah and Mark Cobain
Denis Adair
Douglas Pearce
Elizabeth Houlton*
Elizabeth Stuart
Ellen Look
Elyse Postlewaite and Kelley Compogno
Evan Arbour
Frank Peschel-Gallée and Caroline Gallée
Helen Harris
Javila Creer
John Boose
Kent Stowell and Francia Russell
Liberty Mutual
Lincoln Uyeda
Marcia Bruya
Michael Curry
Microsoft
Monica Adams
Rhessa Diaz
Roger Keeton
Salish Lodge and Spa
Scott Carnz
Tim Bradbury
Alfonso's Salon
Alta Crystal Resort
Becky Forland
Betsy Rader and Dave Watson
Carolyn Lowe
David Isla and Gary Southerton
David McDorman
Donna and Rob Dughi
Eric Carlson
Grant Taylor
Hotel G
Ingrid Harten
James Mumford
Jamie Buckley Photography
Janet Wong
Jill Stutzman
Joseph Raisanen
Julian Peña
Julie Forcum
Justine Finn
Karen Grady
Kelly Zuger
Kristie and Robert Blade
Kristin Moomaw
Leslie Harris
Lizzie Gutierrez
Lucien Postlewaite
Luke Bartlett
Lynn Carnegie
Marcie and John McHale
Mary Crane Nutter
Miller Adams
Monika MacGuffie
Owen Richards
Pamela and Roman Mach
Perry Bryant and David Comstock
Petr Horak and Olivier Wevers
Ray Manahan
Ritsu Itoi and Andreas Kalmes
Royal Alley-Barnes
Samuel Schwab
Sarah Foster
Shannon Carpenter
Sharon Ellis
Shelley Freeman
Steve Cromwell
Steve Sheehy and Davis Bergmann
T-Mobile Corp
Tina Nole
Todd Shively
Adam Welch
Alexandra Grigore
Amanda Zehinder
Amy Rastogi
Amy Roberts
Andrea Niculescu
Andrea Wagner
Andrew Heelas
Annie Gould
Anthony Tippins and Frank Baldassare
Anuraag Pokhrel
Ashley Clark and Chris Manojlovic
Bill and Melinda Gates Foundation
Camden Davis
Casie LaBella
Cindra Wright
City Cycle
Claudia Mansfield
Clint Larsen
Cristy Anderson
DeLille Cellars
Dina Alhadeff and Jay Long
Dori McLennan
Douglas Laudenschlager
Eric Schlegel*
Eric Giesen
Erin and Kirby Green
Gary and Mary Molyneaux
Geraldine Haynes
Grace Spencer
Greg McKnight
Greg Nettleton
Guy Caspary
Harvey Lau
Heidi McNulty
Helene Kaplan
Hiit Laab
Hillary Chen
Hunter Hahnemann
Jack Cowan
Jacob Bronowski
Jacob Hill
Jamal Yearwood
James Kent
James Rogers
Jamie Weinstein
Jane Cracovaner
Jerry Shigaki
Jill and Craig Big Eagle
Jill Castillo
Jill Mattern
Joey Robinson
John and Susan Cracovaner
John Andrews
John Lafrentz
John Robinson
Joseph Pedro
Josephine Edmondson
Juanita Holmes
Judy and Steve Fihn
Julie Chandler
Julie Oliver
Juriana Spierenburg
Justin Provido
Kailin Gregga
Kari Wilson
Kate Wallich
Katherine Young
Kathi White
Kelly Robison
Kimberly Fauquenot
Kimberly Nyhous
Kisha Vaughan
Kori Martodam
Kosar and Michelle Jaff
Kyle Brown
Laara Garcia*
Laura Bannister
Lee Hibbets and Matt Falcon
Libby Watson
Lori Sherick
Louise l'Anson
Madeline McHale
Maria Rollins
Mark Barbieri
Mark Zappone
Mary Albano
Matthew Grierson
Melody and Joseph O'Neill
Michelle Chambers
Michelle Nevins
Michelle Storer
Miranda Madich
Molly Davis
Molly McConkey
Moxy Hotel Seattle
Neil Kalariya
Nell J Rollins
Nicole Stellner
Pamela Perrott
Paul Elrif
Paul Gates
Randy Everett and Gary Fuller
Raymond Tymas-Jones
Rebecca Marion
Robert Mathews
Ryan Fields
Ryan Lile
Sasha Nosecchi
Shawn Brinsfield
Smith Tower Observatory and Bar
Stefan Dotson
Stephanie Schuh
Steven Billeau
Steven Lazen
Sunita Martini
Susa Ragen
Susie McGee and Mark Lowdermilk
Sydney Freggiaro* and Erick Koons
Tariq Mitri
Taylor Colledge
Teresa McCann
The Dazzle Cleaning Company
Therese McRae
Tim Pfeiffer
Tizzy Harbaugh
Tom Douglas Co Hot Stove Society
Tonita King
Trish Reinhardt
Victoria Farr Brown
Vincent Lipe and Steve Jensen
Aaron Stayman
AmazonSmile
Andre Tapia
Ansley Dawn
Ashley Gilbert
Ashley Menestrina
Billy Hilton
Chris Conroy
Christopher Cooper
David Owen Hastings
Dean Speer
Derek Shimizu
Eileen Hall
Francesca Gola and Nicola Dolci
Franco Nieto
Fred Meyer
Gaylene Vaden
Georgetown Brewery
Jackson Cooper
Jason Gomer
Jeffrey Hirsch
Jeffrey Lemkin
Jill Eathorne Bahr
Jonathan Batista
Joseph Lister
Judit Velcsov
Julia Rummel
Karen Dunn
Kelsey Leonard
Kendall Overton
Kenneth Graves
Kroger
Leif Tellmann
Marcus White
Marianna Busby
Martha Smith
Megan Barrett
Melody Gonzalez
Michael Myers
Michael Reid
Michelle York
Patricia Fulton
Peder Digre*
Ross McDorman
Sara Holstine
Sue Berger
Wells Fargo
Gifts listed were given between  1/1/2022 and 1/20/2023.
If you see an error, please contact Melody O'Neill, Company Manager, at melody@whimwhim.org.
*Monthly Donors
**Legacy Donors who have Whim W'Him listed in their will or estate plans
We strive to honor our supporter's preferences for name recognition.
Please contact melody@whimwhim.org if you would like to change your preferred name listing.
JOIN WHIM W'HIM TODAY, BECOME A REAL RENTER! 
Real Rent calls on people who live and work in Seattle to make rent payments to the Duwamish Tribe. Though the city named for the Duwamish leader Chief Seattle thrives, the Tribe has yet to be justly compensated for their land, resources, and livelihood.
You can do something today to stand in solidarity with
First Peoples of this land by paying Real Rent.
All funds go directly to Duwamish Tribal Services (DTS) to support the cultural, economic and political survival of the Duwamish Tribe. Visit the webiste to learn more about this grassroots movement to support Duwamish sovereignty
Enriching lives by investing in imagination,
illuminating that art exists within each and everyone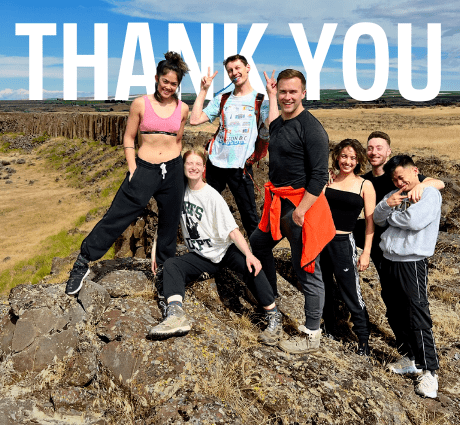 SUPPORT NEW DANCE CREATIONS & THRIVING ARTISTS
Every gift makes an impact on our artists, programs and community.
Thank You for Your Generous Support!
Your support makes our work possible and we are deeply grateful for all the ways you continue to show up for Whim W'Him, our artists and each other – by donating, joining us for online creations and conversations, and sharing the work we do with families, friends and neighbors.

Thank you for being part of the Whim W'Him family!