Braiden Rex-Johnson and Spencer Johnson
It's our pleasure to welcome you to the opening performances of Whim W'Him's 2022/2023 season.
We feel privileged to be this year's season sponsors because we love contemporary dance and believe so deeply in Whim W'Him's vision: Enriching lives by investing in imagination, illuminating that art exists within each and everyone.
Founded in 2009 and celebrating its 13th season, Whim W'Him exemplifies the best of artistic principles—talented and dedicated dancers, award-winning choreographers from around the world, and a visionary artistic director in Olivier Wevers, Whim W'Him's founder.
Olivier embraced the concept of Diversity, Equity, and Inclusion (DEI) long before it became a popular buzzword, and paying Whim W'Him's seven dancers a living wage has always been a top priority.
Admirably, the company flourished even during dark Covid times, pivoting to film performances, creating pop-ups in local parks, and expanding its range from theaters in Seattle to performing arts centers in Vashon and on Whidbey Island.
"Art exists within everyone" is an empowering thought as we come together in the Erickson Theater for the first time since 2019. The Fall 2022 program is especially exciting, featuring world premieres by Keerati Jinakunwiphat, Dolly Sfeir, and Nicole von Arx. All are first-time-in-Seattle choreographers chosen by Whim W'Him dancers as part of the eighth Choreographic Shindig.
So, without further ado, we welcome you to Whim W'Him's 2022/2023 season.
Ready. Set. Dance!
Dear Whimmers,
Welcome to the Fall 2022 show!
It has been a thrilling and surprising journey for me, watching Whim W'Him grow from the day of its inaugural rehearsal to a moving run-through of Dolly's piece in this program and the August popup in Volunteer Park. In recent nights, I've dreamt several times about the exciting theater-week bustle to finish costumes, set lighting, bring the intricate curves and angles, flurry and stillness of a dance to the sweet spot between not-quite-ready and over-rehearsed. I have loved my hours taking copious rehearsal notes, chatting with all those who populated my posts, and choosing fitting images. I have cherished the sessions with Olivier discussing new creations, working on projects like the synopsis of This Is Not The Little Prince, and observing his progression.
Yet after long thought and with bitter-sweet emotions, I am retiring as Whim W'Him's blogger. Three major writing projects await me in the wings. All three were started long ago and are in various stages of completion. I am not willing to let any of them frizzle away and die, but I cannot do them justice and the blog as well.
There are far too many things I have learned, and steps in the evolution of Whim W'Him, to write about here. But this weekend I will publish a final blog post touching on some of the highpoints of the years with Whim (and describing the three projects I'll be working on). In the meantime I want to offer my gratitude to Olivier, the dancers and all the many others who have come together to produce and to witness these dozen plus years of transformative Whim W'Him performances. Thank you! And welcome to tonight's show!!!
Love,
V
Whim W'Him nurtures community with contemporary dance
by cultivating space for artists to imagine and explore the human condition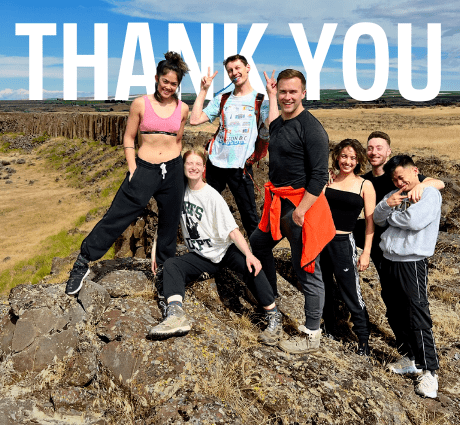 SUPPORT NEW DANCE CREATIONS & THRIVING ARTISTS
Every gift makes an impact on our artists, programs and community.
Thank You for Your Generous Support!
Your support makes our work possible and we are deeply grateful for all the ways you continue to show up for Whim W'Him, our artists and each other - by donating, joining us for online creations and conversations, and sharing the work we do with families, friends and neighbors.

Thank you for being part of the Whim W'Him family!