Welcome to the Whim W'Him Winter '23 performance! This has shaped up to be an incredible program and I'm excited to see it with you and welcome you in my capacity as a newly elected Board member. Being of service to a local arts organization is very meaningful to me and I am over the moon to be a part of Whim W'Him's journey, having watched them grow over the years into the sophisticated and innovative company you're about to see. I'm honored to help steward their future growth in my new role and look forward to experiencing these latest creations, brought to you from these visionary artists.
We're thrilled to welcome Mike Esperanza, an acclaimed multi-disciplinary artist based in NY, who's making his Seattle premiere with a piece based on his childhood viewing of Classic TV shows, exploring the deconstruction of illusion to expose reality. I'm very excited to see this electric and thought-provoking piece from a new (to us) voice! Our intrepid Artistic Director and Founder, Olivier Wevers is back to choreograph a piece inspired by the Lavender scare propaganda of the '50s. It's not hard to draw a parallel today from that to some of the fear-mongering tactics that we've lamentably seen being used more and more recently to demonize LGBTQIA+ people, which makes this piece particularly relevant.
Also joining us again is the globally in-demand choreographer, Annabelle Lopez Ochoa, and we are happy to have her back with us. When I was still considering joining the Board back in December, I had the opportunity to get a sneak peek of her piece in rehearsal. It was very early on in the process and was still, in her words, in a "vulnerable" place. Even though I had really made up my mind by that point to join the Board, it was seeing the Whim W'Him dancers work together with her in that vulnerable stage that confirmed my decision. In that place of vulnerability, what was evident to me was that they had an incredible bond and an enormous amount of trust between them that allows them to explore and create freely, moving forward together in a cohesive way. The environment that Whim W'Him has fostered to allow them to create and share their gift with us in a safe and nurturing space like that is truly special. It's a testament to not only the artists, the Whim W'Him staff, my fellow volunteer Board Members, and of course Olivier, but also to you, our audience members and supporters, who understand the value of arts in connecting our local community and recognize Whim W'Him as a significant contributor to making those connections.
I'm grateful to be a part of this community and to help Whim W'Him continue to thrive within it. We have some exciting initiatives on the horizon this year, including the build out of our new permanent home for rehearsals and office space we recently closed on, which is an incredible and rare accomplishment for any arts organization. We want to continue to build on that excitement and appreciate your support during this period of growth. Thank you for joining us tonight and coming on this journey with us. We look forward to seeing you in the future as we continue to innovate and create.
Many thanks,
Darren Focareta
JOIN WHIM W'HIM TODAY, BECOME A REAL RENTER! 
Real Rent calls on people who live and work in Seattle to make rent payments to the Duwamish Tribe. Though the city named for the Duwamish leader Chief Seattle thrives, the Tribe has yet to be justly compensated for their land, resources, and livelihood.
You can do something today to stand in solidarity with
First Peoples of this land by paying Real Rent.
All funds go directly to Duwamish Tribal Services (DTS) to support the cultural, economic and political survival of the Duwamish Tribe. Visit the webiste to learn more about this grassroots movement to support Duwamish sovereignty
Whim W'Him nurtures community with contemporary dance
by cultivating space for artists to imagine and explore the human condition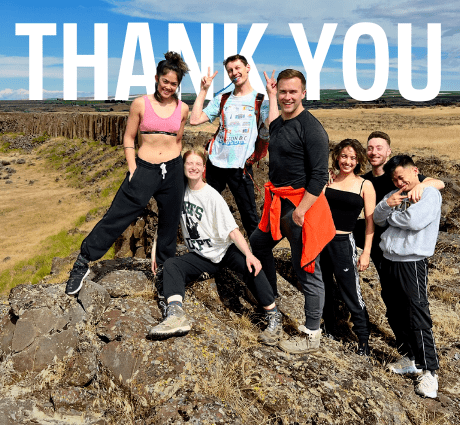 SUPPORT NEW DANCE CREATIONS & THRIVING ARTISTS
Every gift makes an impact on our artists, programs and community.
Thank You for Your Generous Support!
Your support makes our work possible and we are deeply grateful for all the ways you continue to show up for Whim W'Him, our artists and each other – by donating, joining us for online creations and conversations, and sharing the work we do with families, friends and neighbors.

Thank you for being part of the Whim W'Him family!