nurturing art by nurturing artists
"I'm so proud of the resilience and creativity that our artists, collaborators and staff have demonstrated. Everyone's dedication to our mission has enabled us to pivot and continue to share stories and dance inventions safely. By keeping our sense of wonder and imagination bustling–and pairing it with problem-solving ingenuity–we are reaching new frontiers."

Olivier Wevers, Artistic Director & Founder
nurturing art by nurturing artists
"I'm so proud of the resilience and creativity that our artists, collaborators and staff have demonstrated. Everyone's dedication to our mission has enabled us to pivot and continue to share stories and dance inventions safely. By keeping our sense of wonder and imagination bustling–and pairing it with problem-solving ingenuity–we are reaching new frontiers."

Olivier Wevers, Artistic Director & Founder
whim w'him nurtures community with contemporary dance
by cultivating space for artists to imagine and explore the human condition
ABOUT THE WRITER
Victoria Farr Brown is a former historian, a writer, now mostly of fiction, and a long-time lover of dance. She has written about Whim W'Him from its first steps in 2009.
Victoria Farr Brown
Today is my last regular post for the Whim W'Him blog. After a year passed in mourning my husband's [...]
Victoria Farr Brown
For 6 thrilling years Liane Aung was a radiant presence at the center of Whim W'Him. In a group or [...]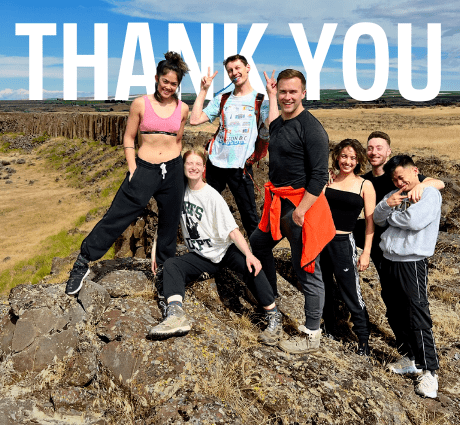 SUPPORT NEW DANCE CREATIONS & THRIVING ARTISTS
Every gift makes an impact on our artists, programs and community.
Thank You for Your Generous Support!
Your support makes our work possible and we are deeply grateful for all the ways you continue to show up for Whim W'Him, our artists and each other – by donating, joining us for online creations and conversations, and sharing the work we do with families, friends and neighbors.

Thank you for being part of the Whim W'Him family!
JOIN WHIM W'HIM TODAY, BECOME A REAL RENTER! 
Real Rent calls on people who live and work in Seattle to make rent payments to the Duwamish Tribe. Though the city named for the Duwamish leader Chief Seattle thrives, the Tribe has yet to be justly compensated for their land, resources, and livelihood.
You can do something today to stand in solidarity with
First Peoples of this land by paying Real Rent.
All funds go directly to Duwamish Tribal Services (DTS) to support the cultural, economic and political survival of the Duwamish Tribe. Visit the webiste to learn more about this grassroots movement to support Duwamish sovereignty
SUBSCRIBE TO OUR MAILING LIST
We will process the personal data you have supplied in accordance with our privacy policy.