OPPORTUNITIES
Thank you for your interest in Whim W'Him!
VOLUNTEERS
We are always looking for volunteers to help at our events and at our performances.
Volunteers receive free tickets and are an invaluable part of the Whim W'Him family.
Email us at info@whimwhim.org to learn more.
BOARD MEMBERS
We have a working board where everyone collaborates as committee members, event helpers, financial advisors, and more. Our board members' main function is to guide Whim W'Him to realize opportunities that help us fulfill our mission, serve our community, and live into our values.
Whim W'Him is seeking people who have experience in and are committed to:
Community Building
Justice, equity, diversity, and inclusion
Creativity and resiliency
Honoring individual gifts of time, talents, and resources
Fiscal responsibility
Board members are expected to attend monthly board meetings (1.5 +/- hours each) on the 4th Tuesday of each month. Members may attend in person or virtually. Board members are also expected to attend Whim W'Him performances and events; chair or participate in a committee (committees usually meet for an hour or more each month); assist with identifying new board members; and champion Whim W'Him in the community.
No minimum financial contribution is required.
See a list of Board members.
DANCERS
Company audition applications for SEASON 22/23 are now closed.
Please check our website for future announcements, as well as our social media platform.
PLEASE CHECK YOUR SPAM FOLDER for communications from Whim W'Him, Thank you!
CHOREOGRAPHERS
Whim W'Him dancers, under the artistic direction of Olivier Wevers, seek choreographers to create new dance works for the company's "Choreographic Shindig" each season. Selected choreographers are invited to Seattle to create an original dance with the Whim W'Him professional dancers. Choreographers share 2-3 weeks of residencies, which culminate in 7 public performances of a professional split-bill in Seattle in September.
Applications for 2023 are now closed, thank you to everyone who applied.
Any questions? Email: info@whimwhim.org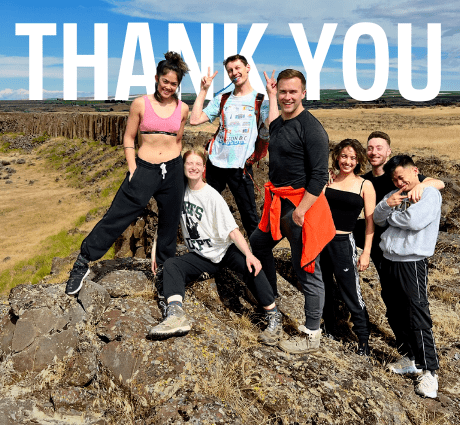 SUPPORT NEW DANCE CREATIONS & THRIVING ARTISTS
Every gift makes an impact on our artists, programs and community.
Thank You for Your Generous Support!
Your support makes our work possible and we are deeply grateful for all the ways you continue to show up for Whim W'Him, our artists and each other – by donating, joining us for online creations and conversations, and sharing the work we do with families, friends and neighbors.

Thank you for being part of the Whim W'Him family!