WONDER BEYOND
Whim W'Him's all-digital Season 11 concludes with WONDER BEYOND, featuring two new contemporary dance films by Joseph Hernandez and FLOCK, with filming and direction by movement photographer and videographer Quinn Wharton. WONDER BEYOND will launch on Thursday, May 27, 2021, with a free, behind-the-scenes Dance & Tell Facebook Live event at 6:00 p.m. PST, followed immediately by the film release only on IN-With-WHIM.
Dancers: Michael Arellano, Liane Aung, Jane Cracovaner, Ashley Green, Jim Kent, Andrew McShea, Karl Watson
Special thanks to Northwest Dance Project, Paris Sakas
UNTITLED AUBREY BEARDSLEY DANCE SUITE [FOR FILM], OR, HOW TO MAKE ART AT THE END OF THE WORLD
Unable to dance or work with the Dresden Semperoper Ballett after the pandemic struck and questioning the very meaning and purpose of art, dancer/choreographer Joseph Hernandez's turned his thoughts in new directions. UABDS [for Film] was conceived, from the beginning, as a different kind of dance piece. The concept was in constant flux, seeing as how it was first imagined as a 25-minute stage spectacle in the late part of 2019.  The journey from concept to film changed the way that we thought about creation entirely.  We shifted from the idea that what we were making was going to be somehow finished at a certain point.  The piece began to spread out into different formats.  The film, ostensibly seen as a replacement for a live performance, became, instead of a replacement, a record of the anxieties and liberties associated with making art in 2021.  UABDS turned into something definable and finite, more akin to a kind of practice. 
This piece is a celebration of the talents and histories of this specific group of artists, as well as the many people that have come together to make work like this possible.  Visit www.untitledaubreybeardsley.com for more information about our process. "
NOVA explores the sensation and recognition of the superhuman capabilities that exist within us all. In times of challenge we are given the opportunity to use our strength in new and sometimes surprising ways. Built from the personal stories of the dancers, NOVA emphasizes the impulse within this particular team to use their unique powers to embrace self and to help each other and the world at large.
FLOCK began in 2017, the combined effort of Alice Klock (whose made Before After for Choreographic Shindig IV) and Florian Lochner, then both dancer/choreographers at Hubbard Street Dance Chicago. From the start the two have known "what is in each other's mind and what to focus on. We have the same ideas. Like four eyes in one head." Although FLOCK spent the Covid lockdown widely separated, he in his native Germany, she near Seattle on Whidbey Island, they worked together virtually, teaching, choreographing and producing pieces with dancers across the world. Reunited in person in the Pacific Northwest since January, Florian and Alice have created NOVA to be performed in one take, whether on film as part of Whim W'Him's Wonder Beyond or in a few special live performances.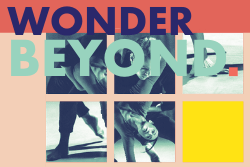 Want unlimited access to all
of our content including
CHOREOGRAPHIC SHINDIG VI?
Check out our unlimited
membership options
IN-WITH-WHIM