XALT "Beyond the Stage"
XALT was planned for June 2020 at the Cornish Playhouse at Seattle Center, it was the last program of our 10th season. On Friday, March 13, 2020, the last day of our first week of creation with Penny Saunders, we decided to go into isolation a week before the state of Washington implemented a stay-at-home order for its residents. While in lockdown, and with details of what it would take to keep everyone safe, we very quickly pivoted and decided to create dance films to replace the performances.
Penny Saunders is a favorite of Whim W'Him audiences. Her latest work for the company, Manifold, explores the complexities and divisive nature of the media. She writes, "We receive nonstop information from sources that continue to pander to our current positioning on any given topic while igniting aggression rather than offering any common ground. In 1958 veteran broadcaster, Edward R. Murrow, delivered a speech to his colleagues warning that unless we 'recognize that television in the main is being used to distract, delude, amuse and insulate us, then television and those who finance it, those who look at it and those who work at it, may see a totally different picture too late.'" And television was only the beginning…
The inspiration for Olivier Wevers' The Way It Is arose from William Stafford's beautiful poem (by the same name) that holds especially poignant meaning in these strange times:
There's a thread you follow. It goes among
things that change. But it doesn't change.
People wonder about what you are pursuing.
You have to explain about the thread.
But it is hard for others to see.
While you hold it you can't get lost.
Tragedies happen; people get hurt
or die; and you suffer and get old.
Nothing you do can stop time's unfolding.
You don't ever let go of the thread.
But a filmed work that will engage and move the viewer is nothing like the static archival approach of a typical dance movie—flat shots of the whole stage or closeups without context. In this brand new venture, we've been very lucky to enlist Quinn Wharton, cinematographer and former dancer with Hubbard Street Dance Chicago and San Francisco ballet, in the quest to bring Whim W'Him to film. Quinn started photographing dance more or less by accident while injured 12 years ago, but continued on purpose when he discovered a talent for seeing striking visual images through the lens of a camera. "Dance," as he says, "is a natural education for the eye." His love of movement and dancer's experience made the evolution to videography a natural next step. His penchant for using natural outdoor light makes him all the more the man of the hour in this pandemic year of found rather than created scenography.
Whim W'Him has always aspired to intensely and profoundly collaborative work. In the intimate partnership now being forged between choreographers, composers of original music, cinematographer, costumers and dancers, current circumstances have pushed the company closer than ever to this goal.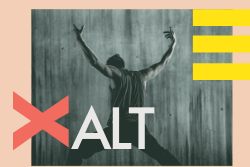 Want unlimited access to all
of our content including XALT?
Check out our unlimited
membership options
IN-WITH-WHIM