Dear Whimmers,
Welcome back to the Cornish Playhouse at Seattle Center.
It is good to be home!
It is no secret that the past 2 years have been challenging for performing artists.
Not being able to perform live has been maddening.
We have learned patience and humility.
But also questioned our purpose and viability over and over.
Resilience is the word that has been used many times to describe how artists have responded. I think it is passion and grit that keep us resilient.
Artists continue to demonstrate that creativity and imagination will triumph over adversity. With our community as partners, we have kept on innovating and discovered new ways to connect and spark empathy. Together we are stronger than we think!
While we don't know yet when this pandemic will be over, we know that nothing will ever stop artists from creating and unmasking fresh horizons. And we hope that you will remain, as we are, curious and engaged in the exploration of the human condition.
I hope you'll delight in tonight's performance, and that it will inspire you and encourage you to continue whimming with us. We are the consequence of your generosity and commitment to the arts in Seattle.
Thank you for choosing to be with us tonight, you fuel our passion, and your presence sets it all on fire!
 With gratitude,
Olivier Wevers, Founder and Artistic Director
Dear Whim Supporter,
I wanted to share a very heartfelt thank you for being in attendance this evening to support Whim W'Him and see this incredible performance tonight. It has been quite the process to get back in the theater here at Cornish Playhouse and we could not have done it without our members, donors, attendees, and you! It is my absolute honor to work alongside the board to help lead this arts organization.
A huge thanks and much gratitude goes to Olivier, Melody, Becca, the dancers and the rest of the board of directors for their hard work and perseverance to get to this day.
The arts are just as important now than ever before and if you have the capacity to make any level of donation, we'd be eternally grateful. You can donate at www.whimwhim.org/support/.
Thank you all and "merde!" to the dancers this evening.
Cheers,
Natalie Sandoval, Whim W'Him Board President
Whim W'Him nurtures community with contemporary dance
by cultivating space for artists to imagine and explore the human condition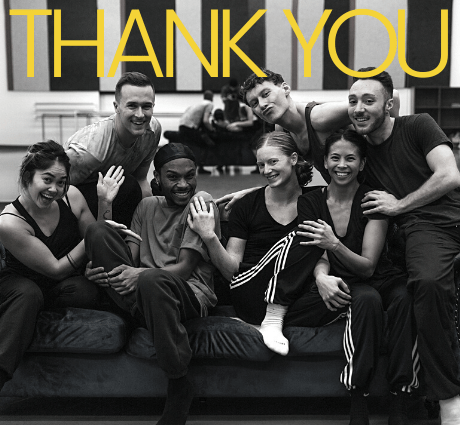 SUPPORT NEW DANCE CREATIONS & THRIVING ARTISTS
Every gift makes an impact on our artists, programs and community.
Thank You for Your Generous Support!
Your support makes our work possible and we are deeply grateful for all the ways you continue to show up for Whim W'Him, our artists and each other – by donating, joining us for online creations and conversations, and sharing the work we do with families, friends and neighbors.

Thank you for being part of the Whim W'Him family!