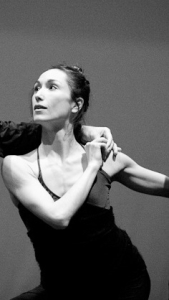 When Chalnessa Eames resigned from Pacific Northwest Ballet last spring, she deliberately refrained from speculating on what she might do next.
"I feel," she said then, "that I have reached a professional plateau and need some time to explore, to find new and different challenges, maybe involving dance and maybe not. There are so many possibilities out there in the world. I'm excited at the prospect of being free to strike out into unknown territory, without too much idea of what path to take next. 'Leap and the net will appear.'" Even a couple of months later, in August, chatting with the woman at whose yoga studio she was doing some teaching, she remembers still not knowing what to expect in the next year.
And then the net appeared, or perhaps it was a new leap-off point…
In September 2011, Chalnessa danced at Bumbershoot with Whim W'Him in artistic director/ choreographer Olivier Wever's FRAGMENTS (a first for her) and This Is Not a Raincoat. Then, she recounts, Drew Jacoby (of Jacoby & Pronk) "emailed me in need of a dancer for a residency for NOCCA – New Orleans Center for Creative Arts. I needed to bring a solo as well as learn two pieces in New Orleans with Prince Cre ddell and Rubi [Rubinald] Pronk."
In the fall of 2011, along with teaching at various Seattle area dance schools, Chalnessa learned a new solo piece, the flirty La langue de l'amour, made for her by Olivier to take to New Orleans, and rehearsed with him as he choreographed on her, for the next Whim W'Him rep, the wrenching role of a woman who is caught in adultery and then stoned to death. In November, Chalnessa was off to New Orleans and the Jacoby & Pronk show, where in addition to La langue, she danced in Annabelle Lopez Ochoa's ONE and La pluie, and taught some master classes. Olivier, in New York City for the APAP|NYC 2012 Conference, came out to light the debut of her solo for her.
Despite no longer being with PNB, Chalnessa danced in two Nutcracker productions, one in Bellingham, WA, with former PNB dancer Josh spell, and the other another Loisiana gig, this time in Lafayette, with Olivier (after his retirement and much begging on her part) as her prince. January 2012 brought the premiere of thrOwn at the Intiman Theatre as the centerpiece of Cast the First Stone in Twenty-Twelve, in which Chalnessa again danced in La langue, a tour de force even for a dancer of Chalnessa's well-known versatility. Later the same month, she joined Olivier and Tory Peil for a Victoria, BC presenters' showcase.
In the dance world, as in most walks of life, one thing leads to another. The new year brought more Chalnessa invitations to dance with Jacoby & Pronk. They rehearsed in Amsterdam at the Dutch National Ballet and then performed at the Holland Dance Festival in the Hague. As if this all wasn't enough to keep her busy, Chalnessa stopped off in Copenhagen to visit former PNB dancer Jodie Thomas and husband Brian, traveled with her own husband, Ash Modha, to Paris for "my first visit ever!" and spent some time "in New York City with the launch of MPG – Mondetta Performance Gear, spreading the word to dancers of my husband's line of clothing created with dance as its inspiration. :)"
Scarcely back in the US again, Chalnessa headed out to Europe once more, again with Jacoby & Pronk, this time to Serbia, to the Belgrade Dance Festival 2012, where a whole new set of experiences (including bring-your-own-toilet-paper national theaters in Belgrade, Novi Sad and Zrejanin) awaited.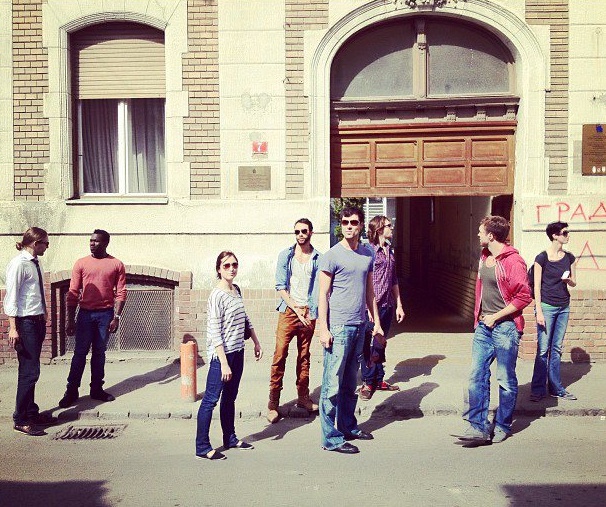 Now as April rushes on toward May, Chalnessa is involved in rehearsing for Approaching Ecstasy, based on the love poetry of C. P. Cavafy, with music composed by Eric Banks, May 18-29, 2012 at Intiman Theatre in Seattle www.Brownpapertickets.com.
And then to cap off the whole crazy, unexpected year, Chalnessa will set off to Africa. In an email, she writes, "The  Mondetta Charity Foundation has partnered with a team of local dentists and their staff, to bring the 2012 Mondetta Charity Foundation Uganda Dental Clinic Mission to Kampala in July 2012. This Mission will endeavor to provide much-needed and often times scarce dental care to the children in the community of Kamwokya, where we have supported the local primary school since our inception. I am so very lucky and excited to join the foundation on this mission this July!!"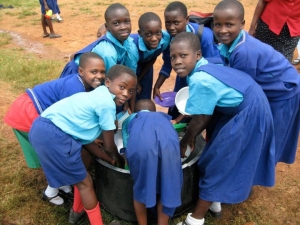 Next up: dance rehearsal of Approaching Ecstasy